As related in Changing Tack and McHugh & Kelly, when Catherine Kelly and her husband Patrick McHugh moved to Missouri, their daughter Anna stayed behind. She was living with her Aunt Susan. What happened to her?
Anna married Dennis Kelleher in November 1881, in Cook County, Illinois. She would have been about 26 years of age. (All ages seem to fluctuate significantly. This is hardly surprising when literacy levels are low.)
There were two children: Dennis (1884-1904) and Rosalie (1884-1971). Rosalie married Elroy Gustav Monson (1898-1980).
Anna died in September 1920 and is buried in Mount Carmel Cemetery, Wexford County, Michigan.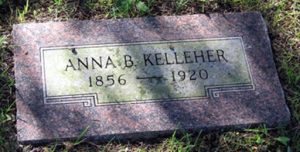 Anna features on some of the family trees that I have researched. Others seem convinced that this information is correct and I agree with them. One loose end tied up!
If I assume that my DNA connection is through the Kelly & McHugh line, then there might be some people with Monson as a family name who also share DNA with me. If so, I would love to have confirmation.