Patrick Stanley was posted to France to re-join the 2nd Battalion of the Manchester Regiment on 13th November 1916. He would have been just one of a number of ordinary soldiers sent as replacements for the casualties incurred. As such his arrival was not noteworthy in any way. It is extremely doubtful if there were any officers or men still serving that would have remembered him from his first period of service in 1914. Very few of them would have been still alive. Just over a week later, the Battalion (with a nominal peace time strength of 1000) had been reduced to just 6 officers and 150 men. Indeed, a visiting General thought that he was looking at a single company (nominal strength of 240). Patrick served with the Battalion for the next 18 months. His guardian angel worked a long and busy shift.
Wilfred Owen joined the 2nd Battalion of the Manchester Regiment at the beginning of January 1917. As an officer, Lt. Wilfred Owen's arrival would have been noted. This is particularly the case as there had been only six officers left about six weeks before (out of 30). He served in France until April of that year. After being diagnosed with shell shock, he was sent to a series of hospitals. The poetry for which he is known dates from the time that he spent recovering. The experiences that he drew upon were those of his time spent at the front in early 1917. He did not return to the front line for over 15 months. By that time Patrick was in hospital in England.
There is no way of knowing if Patrick directly served under the leadership of Wilfred Owen. There is no reason to believe that Owen's experiences, and those of the men that he commanded, were in any way different from that of other junior officers in the 2nd Battalion of the Manchester Regiment. Therefore, Patrick would have experienced a similar, if not the actual, range of experiences to those that shaped Owen's great poems.
In a letter to his mother, he describes the conditions that he encountered in holding a dugout near Serre. "I have not been at the front. I have been in front of it." This particular time was the inspiration for his poem, 'The Sentry'.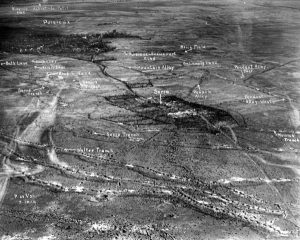 Photograph courtesy of the Trustees of the Imperial War Museum, London [Box 7003, Neg 21]. Accessed via http://www.pals.org.uk/pals_e.htm on 5/11/2019
Recommended reading: http://www.wilfredowen.org.uk/wilfred-owen/wilfreds-places/serre
Curious fact: Wilfred Owen and Patrick Stanley were both 5ft 5 ½ inches tall.