One of my unfulfilled dreams is to deliver a sporting performance that would merit a headline like the one above. I may be past my peak (whenever that was!) but I remain hopeful. As Alexander Pope wrote, "Hope springs eternal in the human breast." My research has discovered that there was a Stanley for whom such an accolade would have been appropriate.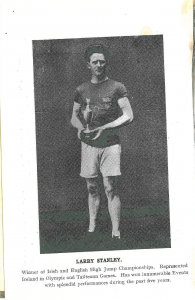 Laurence Stanley was born in May 1896, the last of ten children. In the world of Gaelic football, he is regarded as one of the greatest of all time. Lawrence, or Larry as he was more commonly known, captained Kildare to the 1919 All Ireland Championship. He won another title in 1923 whilst playing for Dublin. Not content with excellence in one sport, he was also an international class high jumper. He won the competition at the inaugural meeting held at the now replaced Wembley Stadium in May 1924. He was crowned Amateur Athletics Association (AAA) Champion in June of the same year, also in London. He then took part in the 1924 Paris Olympics finishing joint tenth. Some of the events from 1924 were central to the 1981 film "Chariots of Fire". Think Harold Abrahams (100 metres), Eric Liddell (400 metres, the athlete who refused to run on a Sunday) and the music of Vangelis.
Photo (and more information): http://www.limerickcity.ie/media/Fifty%20Years%20of%20Irish%20Athletics.pdf (Warning: this is a large file – 20+ MB)
He retired with the rank of Detective Sergeant in the Garda Siochana (the Republic of Ireland Police). He died in 1987 at the age of 91. There is another Detective Sergeant Stanley currently serving far closer to home. Like Larry, he is also over 6 foot tall.
Larry in 1984 (https://twitter.com/gaanostalgia/status/714822454921859072)
In the world of family history, a story such as this is like a dream come true. Sadly, Larry does not fit into my family history. I came across him when following what turned out to be a false trail. (see 'Off in the wrong direction') Larry's home was in Kildare. My ancestors come from Roscommon, about 90 miles away. How disappointing!
More information: http://www.kildare.ie/ehistory/index.php/famous-kildare-athlete-retires/
Larry's family
Parents: John Stanley and Jane Keogh
Mary born 6/12/1878
Thomas 18/7/1880 (Married Maria Cleary 12/8/1914)
Catherine 4/6/1882
Patrick 22/3/1884
Andrew 25/5/1886
John 9/2/1888 (Married Elizabeth O'Reilly 7/2/1925)
James 17/5/1890 (Entered the priesthood 14/7/1918)
Michael 12/1/1892
Annie born 1895 (exact date not known)
Laurence (Larry) 19/5/1896 (married Mary Nolan 19/5/1926)
The family lived in Clongorey, Kildare. It is about five miles NNW of The Curragh Racecourse and 25 miles east of Dublin.