I know nothing about Patrick's life between his birth in Roscommon in March 1883 and August 1902, when he joined the Militia in Dewsbury. I cannot find him on any of the census returns for 1901. My Father relayed a vague story about Patrick being a cabin boy at some point. This is perfectly possible. It might well explain his absence from the 1901 census. Unfortunately, there is no evidence to substantiate it.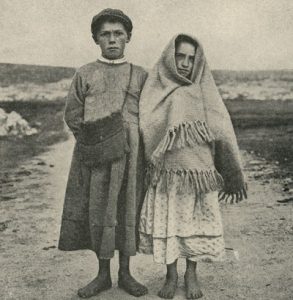 There is also a story about Patrick roaming around Ireland with no shoes. This does not add very much to my knowledge. Many women and children were barefoot, as the photo shows.
Photo collection of Maggie Land Blanck, http://www.maggieblanck.com/Mayopages/People.html  (accessed 10 March 2021)
Even photos taken in the 1930s often show children without shoes.
Education should feature in Patrick's life in his early days. My Father said that Patrick wasn't a fluent reader. Edith, his wife, would read any letters that arrived. Patrick was able to sign his name on his enlistment papers. It is not a confident signature. This begs the question of how much formal education he received.
Cloverhill National School opened in 1887, when he was 4 years of age. It is still in use.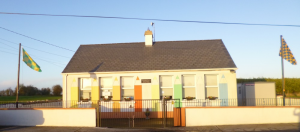 This would have been the closest school to his place of birth. Whether he attended or not, and if so, how often, is unknown.
The Elementary Education (School Attendance) Act 1893 raised the minimum school leaving age in Britain to 11 (from 10!). Patrick was 10 at that time. He, or his parents, may have been able to use the lower figure to end his school days.
In 1899 the leaving age was amended to 12. In 1900 education was made compulsory between the ages of 5 and 14, with some exemptions. Patrick would have been well clear of the reaches of the education system by that time.
The situation, as was often the case, was slightly different in Ireland. Among the exemptions granted was to allow children to help on the farm. In 1893, when Patrick was 10, his Father was about 68. It is reasonable to assume that he would have welcomed some assistance. By that time, many other members of the family had already moved to England. The only other family member known to be at home was Thomas. He was 20 and asthmatic.
Underage children with jobs were supposed to have reached certain minimum standards before they were allowed to leave the education system. This criterion seems to have been applied unevenly. Rural areas were particularly generous in the interpretation of educational achievement. The prevalence of early school leaving from all levels was remarked upon in many official documents. Poor levels of attendance were also a significant issue. When the weather was cold, walking to school without shoes would have been particularly unattractive.
As late as 1927, the Commission on Technical Education Report remarked on irregular school attendance. It stated that the average school leaving age was 10½ years. This is not a typographical error!
It seems reasonable to conclude that Patrick only received the most basic education.