In September 1913, the staff and pupils of Brighton, Hove and Sussex Grammar School took possession of new, purpose built premises on Dyke Road. In August 1914 they were forced to return to their old home. The building had been requisitioned. It became 2nd Eastern General Hospital. The building still exists. It is now a Sixth Form College.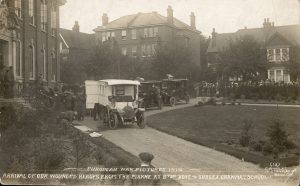 The picture was taken in the aftermath of the Battle of the Marne (7-10 September 1914). Patrick would have arrived 3-4 weeks later. (Photo copyright: Royal Pavilion & Museums Brighton & Hove)
It was a relatively large hospital with over 500 beds.
I cannot be sure how long he stayed. His army record shows that he transferred to the 3rd Battalion (a home based unit) on 6th January 1915. I assume that this took place to facilitate his recovery.
This sounds like a simple case of 'soldier is wounded, soldier sent to hospital, soldier recovers'. At one level it is just one of tens of thousands of such stories. It is far more important to the family history than that. Obviously if Patrick had not recovered that would have been the end of the story. Indeed, there would be no story to tell. The wider significance is that whilst a patient, he met a 26 year-old local girl called Edith Delves. She was to become his wife, and, ultimately, my grandmother.