Patrick reported to the Manchester Regiment's Headquarters (at Ashton-under-Lyne) on 5th August 1914. Britain had declared war on Germany the day before. He was posted to join the 2nd Battalion in France on 30th August.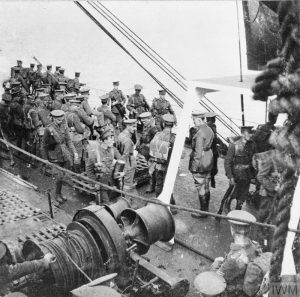 When the war started the 2nd Battalion was based at the Curragh Camp in Ireland. They arrived in France on 17th August. They spent most of their time retreating under heavy fire. (The 1st Battalion was in India at the time. They arrived back in Europe at the end of September.) The 2nd Battalion took part in the historic stand at le Cateau on 26th August. The British Army suffered large casualties but was able to slow the German advance. This enabled a structured and orderly retreat to take place. The 2nd Battalion lost 353 men (either killed, wounded or missing). This is one third of their strength. Patrick joined them four days later. Not for the first time, or the last, his timing seems to have been favourable.
The retreat continued. Crepy en Valois was reached on 1st September, and Nantouil two days later. Having crossed the River Marne, the retreat stopped at Tournan (only 15 miles from Paris). By 9th September the Battalion had reached the plateau at Le Limon (midway between Paris and Reims). This is known as the Battle of the Marne (7-10 September).
It is not my intention to give a detailed account of the fighting in which Patrick was involved. There are many excellent accounts available.
I will pick up his story on 12th October 1914. By this time his Battalion was located near the la Bassee Canal, north of Lens. On the 13th, they advanced towards a village called Richbourg l'Avoue. The account that I have says that the advance was slow as every yard of ground was fought over. The village became a ruin over the next two days.
Patrick makes an appearance on the official records. A casualty report received on 16th October has him listed as wounded. Exactly where this took place is not known. It cannot have been far from Richbourg. In the parlance of the time, he had a 'blighty wound'. He was evacuated back to England. He had spent just over six weeks in France.