In October 1902, Patrick signed Army Form B217 for a short service enlistment. It was for a total of 12 years, part on active service and the rest on reserve. Question 1 asks for the recruit's name. (Starting with the difficult ones!) Question 2 provided the key information about Patrick's place of birth. Question 18 has four sub clauses. Clause 18b is particularly relevant:
Are you willing to serve upon the following conditions provided His Majesty should so long require your services?
If, at the expiration of the above mentioned term of Army service a state of War exists, then, if so directed by the Competent Military Authority, to serve in Army Service for a further period not exceeding 12 months.
Patrick answered, "Yes". He joined the Army on 2nd October 1902. This means that his obligation to serve ended on 1st October 1915. The Army would have been extremely reluctant to see him go. Losses by the end of 1914 were 90,000. This is greater than the size of the British Expeditionary Force (BEF) that had been sent to France in August of that year. He was an experienced soldier. The wave of new recruits who volunteered in 1914 had no battle experience. Old heads were needed. I am told that he had a stubborn streak. (This may be genetic!) He insisted on being discharged. A most cursory examination of his experiences thus far (one trip back on a stretcher, being gassed, being shelled etc.) makes his decision eminently sensible. There is also the matter of the lady that he met whilst in the 2nd Eastern General Hospital in Brighton. I am sure that he found her company more attractive than that of his brothers in arms.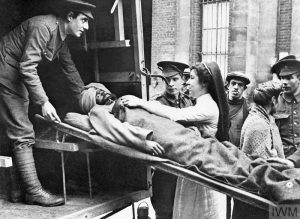 Photo: Copyright IWM Q 53345
The comment on his record is quite revealing. "Discharged 1-10-1915. Termination of his first period of engagement". The Army expected to see him back. They were right.