When Patrick returned from service in India in October 1910 he went back to Dewsbury. So where did he go after insisting on his discharge in October 1915? He headed south. He went back to the town that he first saw almost exactly a year before: Brighton. Originally, he arrived on a stretcher. His recuperation was helped, at least psychologically, by the presence of a local girl called Edith Delves. It is more accurate to refer to her as a young woman. In 1915 she was 27. (Patrick was 32, although he probably claimed to be 31.)
In common with many unmarried women, Edith carried out a range of general duties alongside the trained nursing staff at 2nd Eastern General Hospital. Edith's job meant that she couldn't go any distance from Brighton. Patrick's injuries, and military discipline, also limited his mobility. Under such inauspicious circumstances a romance started.
Brighton was a sizeable hub for military hospitals. There are many good reasons for this. It was relatively close to the Western Front. It offered sea air: much favoured at the time in assisting recuperation. It had good transport links. (London could be reached in little over an hour.) As a popular resort, it offered a range of accommodation for temporary staff and visitors.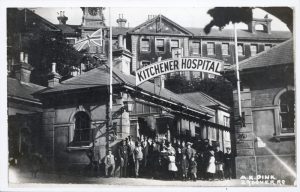 In addition to the main building of 2nd Eastern General, there were no fewer than five other sites that were part of the same complex. Brighton and Hove Council lists 20 different locations for medical facilities in the Great War. One of the largest, housing up to 2,000 patients, was the Kitchener Hospital. It was originally the main Workhouse for the town. It reverted to this use in 1919. In 1930 it became Brighton Municipal Hospital. It still functions as a hospital, now known as Brighton General. And this is where I was born in the 1950s. This means that I can claim to have been born in the Workhouse!