Apologies for the pun!
One of the mourners at Susan (Kelly) Cronin's funeral was John J McHugh. It has been relatively simple to trace him through the records. The comprehensive nature of records in Michigan and neighbouring Illinois is a great help in this respect. He died in Chicago, Illinois in 1918. He was born on 14 February 1857. The death certificate records his place of burial as Marshall, Michigan. He is one of the 14 people with the McHugh name that are buried St Mary's graveyard along with Susan Cronin.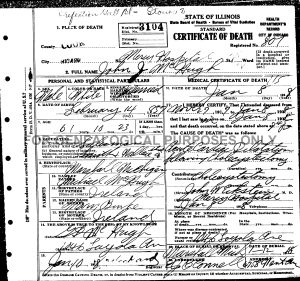 The death certificate records his parents' names as Michael McHugh and Mary Bourke, both of whom were born in Ireland. I have not tracked down Michael as yet, but he must have died sometime after 1856. It is probable that he died before state registration of deaths started in 1867.  Mary (1830-1903) is another one of those in St Mary's graveyard.
John J McHugh married Anna (or Annie) Devereaux in November 1878, in Calhoun County. Annie (1856-1934) is commemorated on the same stone as her husband.
The 1900 census records John and Anna living in Chicago with Rose (born 1881), Isabel (born 1883) and Grover (born 1885). Another child, Esperance, died in 1890 less than two months old. Both Rose and Grover are also buried at St Mary's. That makes 5 of the 14 accounted for.