The 1880 (American) Census shows Susan Cronin (nee Kelly), her husband Jeremiah and six children living in Marshall, Calhoun, Michigan. Staying with them are Anna McHugh (daughter of Susan's sister Catherine) and two other members of the Kelly clan. Jessie Kelly was 10, born in Nebraska.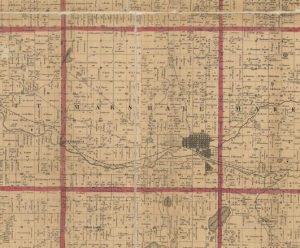 Both her parents were both born in Ireland. As previously discussed, Jessie was the daughter of John Kelly. (See 'Jessie and Jesse') Theodore (age 17, born in New York to an Irish mother and a father born in New York) may, or may not be, the son of John. The use of terms such as nephew and niece has to be treated with care. There is limited space on the census form. It is doubtful if many people would take the trouble to record a relationship such as second cousin, or half-brother.
1858 Map of Marshall, Calhoun. Source: Library of Congress
I decided to look for other records on Theodore Kelly. The 1870 census has a record of Theodore, aged 6, born in New York. His Father was John and his mother was Ann. There are three other siblings. John is a farmer. They are living in Sullivan, New York. This is a good match. In 1900, Theodore is farming in Wayne County, Pennsylvania. This is a relatively short distance from Sullivan. John Kelly dies there (Wayne County) in 1905 at the age of 80. Theodore died in 1941. His mother's name was Angeline Tinklepaugh. (Pennsylvania death certificates record the names of both parents.)
The title of this article is significant. The family that appears in 1870 also appears in 1880, in exactly the same place. The names are right. The ages are right. Theodore cannot be in two places at once. Furthermore, John (father of Jessie) established a farm in Missouri. Anna McHugh's parents moved there in the 1870s. Unfortunately, I cannot find another Theodore Kelly in 1870, or in 1890. If I had not looked through all the census returns for Theodore Kelly, I might easily have concluded that John Kelly died in 1905. I would have speculated that he was visiting his son when he died. I already knew that there were many, many Irish born men called John Kelly. It appears that at least two of them had a son called Theodore, born in New York at roughly the same time.
The search goes on. I start to question some of the information that is in widespread circulation. Many family trees record John's date of birth at 1825. That is correct for the Wayne County man. But he is not the father of Jessie, born 1869. His sisters Catherine and Susan were born in the mid 1830s. Perhaps John was the youngest. He could have been born anytime in the 1840s. Another avenue to pursue.