There is significant competition between the websites that publish genealogical information. More records are added on a regular basis. New "bells and whistles" are added to improve the attractiveness, and functionality, of each site. The Genealogist (https://www.thegenealogist.co.uk/) recently added a map function to the 1911 census returns. When you have found an address of interest, a map shows the location. This promises to be very useful.
The reality is different. My Grandfather, Patrick, was living with his sister (Mary) and her son at 20, Elmwood Street, Dewsbury. I am not sure if Optical Character Recognition (OCR) technology has been used, or a human has transcribed the record. Patrick's occupation is shown as "Goldin private". I read the record as saying, "soldier private". Technically this is just about true. He finished his eight years in the Army in 1910. He was a reservist, and thus eligible for a recall until October 1914. What this entry tells me is that he had not found another occupation that he wished to declare to the authorities.
The map that has been attached is for Wood Street, Dewsbury. This location is about 500 yards away from Elmwood Street. In some parts of the world, 500 yards might be considered as virtually next door. Not so in the densely crowded streets of central Dewsbury before the Great War.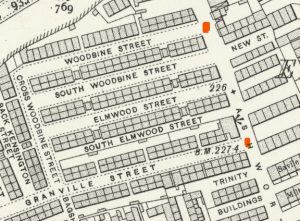 The map shows the layout of streets before the Great War. Ashworth Road still exists today. Ashworth Grange is now the location of Woodbine Street. Ashworth Close is now the location of Granville Street (at its junction with Ashworth Road – the original line can still be traced). The distance between the two red spots is approximately 80 metres. Elmwood Street was also approximately 80 m long. There were 26 occupied dwellings there according to the 1911 census, housing 79 people. There were 7 people living at Number 32. The houses consisted of two rooms: one up and one down.
The local paper (Dewsbury Reporter) often publishes pictures of people and houses from that era. It always prompts a debate. The main difficulty lies in the fact that there is very little to distinguish one back-to-back house from another. And there were hundreds of them. These houses were originally condemned as being unfit for human habitation in 1938. Demolition did not start until after the Second World War and continued into the 1960s.
There are other members of the Stanley family living at 52 Wilmans Yard in 1911. The software highlights Barber Street. I do have some sympathy at this point. I have still to locate Wilmans Yard on any map. But I know that it wasn't the same as Barber Street. The wonders of automation!