Patrick joined the Army on 2nd October 1902. At that time Britain kept a relatively small regular army. The armies of other major European powers were much larger. Britain's army was entirely made up of volunteers and numbered a quarter of a million. (France, Russia and Germany had well over 1 million each.) Half of the British Army was on duty overseas at any one time, in places such as India. Patrick's total commitment was for 12 years. It was due to end on 1st October 1914. His last four years were spent as a reservist. As far as I am aware, he spent the period from 1910 to 1914 in Dewsbury. He is recorded on the 1911 census as staying with his sister Mary.
On the 28th June 1914 shots rang out in Sarajevo. The Archduke Franz Ferdinand and his wife Sophie were assassinated. Depending on your interpretation of history, this was either a trigger point for the Great War, or the latest in a series of events that were leading, with dreadful inevitability, to that War. Efforts to defuse the tension by diplomatic means failed. Armies started to mobilise their reserves. Once started, this is a very difficult process to stop. For example, in 1914 the Austro-German forces had 1.4 million horses. They need a lot of food. They cannot be held in sidings whilst shuttle diplomacy takes place. A decision to mobilise is almost the same as a declaration of war.
On 3rd August, telegrams went out to British Reservists instructing them to report to their units. Patrick was one of those men. Another 60 days and he could not have been recalled. According to my Father, Patrick was not pleased.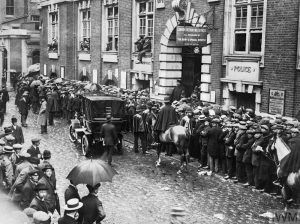 This is in marked contrast to the patriotic fervour that was sweeping the country. Unlike the vast majority, Patrick knew what soldiering meant in practice. Even with some prior knowledge, it is difficult to imagine that he had any real insight into what experiences awaited him. Still, it was all going to be over by Christmas wasn't it?