Towards the end of the 19th century, a row of smart terraced houses was built on Marine Parade in the Tankerton area of Whitstable, Kent. As the name suggests, Marine Parade overlooks the sea. In this case it is the north Kent coast. In 1906 the houses were combined to create the Marine Hotel. The hotel was taken over for use as a hospital when the Great War started. It became the Tankerton Military Hospital. At the time, the town was served by two railway lines. It is just over 20 miles from the port of Ramsgate, slightly further from Dover. As such it made for a relatively short journey for wounded soldiers coming back from France.
After the war it returned to use as a hotel. In the1920s it boasted 40 bedrooms. The majority of these had a sea view.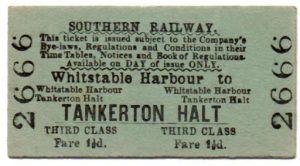 One of the railway lines (that from Canterbury, known locally as the 'Crab and Winkle' Line) closed in 1931. Moving forward in time, the oldest established brewery in the country (Shepherd Neame, founded in 1698 in nearby Faversham) recently completed a major refurbishment. The hotel now has just 30 rooms. And very nice it looks too.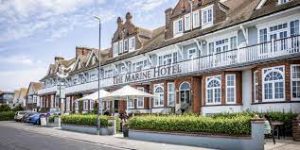 My grandfather, Private Patrick Stanley, was taken to Tankerton Military Hospital on 6th June 1918. He had been wounded on 26th May. I assume that the intervening ten days were spent being moved back from the front line and then assessed in one of the hospitals that lined the coast of France. There were so many hospitals that it was dubbed the Crimson Coast.
The record shows that Patrick had a 'GSW' (gun shot wound) to the right buttock and right upper arm. It appears that he had not flattened himself into the terrain sufficiently when under fire.
When he arrived at Tankerton, it was a 300 bed hospital. A slight difference to 30 rooms in a hotel equipped to the latest standards!
I do not know how long he stayed in hospital. Probably, it was a long time. The last entry on his military record was made on 25th October 1918, five months after being wounded. It stated, "Discharged being surplus to military requirements (having suffered impairment since entry into service)."  This is 17 days before the Armistice came into effect. It is clear that the Army regarded him as unlikely to recover sufficiently to be able to return to duty.
The Army was right. He never recovered full strength in his right arm. Patrick's next problem was finding a job that he was capable of doing. He had been a manual worker, with a low level of education. The next few years were going to be tough.