I am conscious that many of those emigrating from Roscommon ended up in America. For 90 years (from 1831 to 1921) a newspaper called the Boston Pilot published a 'Missing Friends' column.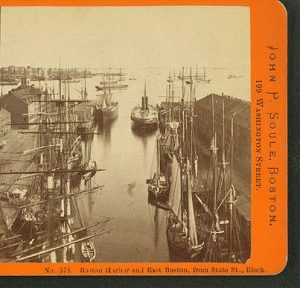 Photo: Boston Harbour in the mid 1800s
Source: https://commons.wikimedia.org/wiki/File:Boston_harbor_and_East_Boston_from_State_St._block,_by_Soule,_John_P.,_1827-1904.jpg (cropped)
The database has over 40,000 records. (https://infowanted.bc.edu/search/ ) (now behind a paywall) Advertisements were placed by people seeking other relatives. It is well worth a look. There are many search options. I looked for the surname of Stanley (hardly surprising!) and the County of Roscommon. It returned eight names.
Closer examination reveals that there are only two groups. Thomas, from Ballintober, was sought by his brother and a cousin. The cousin made two attempts to track down Thomas. John Smith must have married a Stanley girl from Ballybroghan. He looked for her four brothers and their mother.
Ballybroghan is quite a long way from any of the places that feature in my family history. Purely on geographical grounds I am not inclined to spend much time tracking down John Smith's connections. The fact that it is such a common name is another reason to attach a low priority to the search. It makes for a large haystack in which to find a needle.
Ballintober is approximately 6 miles from Rockfield and Clooneenbaum (which do feature in my story), and slightly closer to Islands (which possibly features).
A quick search for an Irish born Michael Stanley in New Jersey did not generate any promising lines of enquiry. I did find another family there. From 1850 through to 1880 there are census returns for John (born about 1810) and Catherine. Ultimately they had ten children. There are no clues as to which part of Ireland they called home.
The fact that enquiries were made by a John Stanley in Philadelphia in both 1858 and 1866 gave me hope that there might be a record on the 1860 US census. I found not one but two Irish born Stanley family groupings next to each other in the 8th Precinct, 24th Ward in Philadelphia City. John (65) Cath (70) and John (21) are one group. An immigration record exists for a John Stanley, born 1807 (and his wife Cath) in 1852. (Arrived from Liverpool 29th June 1852 on the Caroline Nesmith.) It is possible that this is the same one, and that the ages of John and Cath are overstated on the census. If this isn't the case, then Cath is too old to be the 21 year-old John's mother.
The next entry is for William Stanley (30) and his wife Bridget (28). They have four children aged from 4 to 0. The children are all born in the USA. This means that they came before 1856. In 1870 John (referred to as Jas) and Cath are living with William and his family. Both John and Cath are said to be 70.
I have no way of proving a link between these people and the ones seeking the lost relative from Ballintober. It is all circumstantial evidence. Furthermore, I do not know if there is a connection with the folks from Ballintober and my relatives. My only hope is to find another researcher with more information. DNA may provide a reason to keep digging. At this stage I have to file my findings and wait for new information to emerge.