On 10th January 1904 Michael Connor married Celina Stanley. The wedding took place in Cloverhill Church. Both parties resided in Emlaghroy. Celina was 21 (born 1883) and the daughter of Pat Stanley. (The townland of Emlaghyroyin lies between the River Suck and the railway line. It is about half a mile south of Island Upper -which features elsewhere in this blog. See 'From Islands to America'.) https://www.roscommonstanley.me.uk/geography/north-america/from-islands-to-america/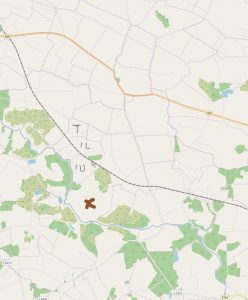 The cross on the map marks the position of Emlaghyroyin. IU denotes Island Upper, IL is Island Lower and T stands for Turksland.
Source: https://www.townlands.ie/roscommon/dunamon/dunamon/emlaghyroyin/
Their first child, Patrick Joseph, was born on 2nd May the same year. They had three more sons: Thomas, John and Michael (born 12th August 1910).
Selina died on 9th June 1957 at the age of 76 in Emlaghroyin. (The spelling of her name varies.) The death was reported by her son John. This indicates her year of birth as 1881. We also learn that she hasn't moved very far, if at all, since marrying.
There is absolutely nothing exceptional about this story. My main problem is that there are no earlier references to Celina Stanley. It is as if she has been teleported into history like a scene from Star Trek. I can find no trace of her birth. I can find no match for her, or her father, in 1901. If the wedding record is correct, I should be looking for an 18 year-old girl. At that age she could well be a servant, and living in another county. It is not a common name. This makes it relatively easy to widen the search geographically. Nothing! The only Celina on the 1901 census in Roscommon is only 6.
There is a Stanley family in the townland in 1901: Patrick (30) the head of the household and his sisters Ellen (28) and Lizzie (25). Patrick married Ellen Scanlon in 1905. His address at the time of the wedding is given as Islands. He was the son of John (almost inevitably!). On the 1911 census Patrick and Ellen (formerly Scanlon), together with their young children, are living in Island Lower. This is another half a mile north of Island Upper. Between 1901 and 1911 Patrick has only aged 6 years.
By 1911, Ellen is 52 (born 1859) and Lizzie is 48 (born 1863). Ellen has aged 24 years in a decade, and Lizzie has aged 23 years. There is a third member of the household: John (!!) age 17 (born 1894). He is said to be a nephew. I have found a record of the birth of John on 7th April 1894 in Emlaroy. The mother is Ellen Stanley, a domestic servant. There is no father named.
On 6th May 1937, Elizabeth, a spinster from Emlaroy died aged 78 (born 1859). The death was reported by Michael Connor, nephew. On 12th May 1937, Ellen Stanley, a widow from Emlaroy died aged 80 (born 1857). The death was reported by Michael Connor, grandson. Both deaths were reported on the same day.
I have a record in my files of the marriage of John Stanley to Bridget Kelly on 25th August 1843 at Creggs RC Church (also known as Kilbegnet). (I have mislaid the source document. Sorry!) They have at least six children: Michael (born 23rd July 1851), Ellen (21st May 1857), Lizzie, John (21st June 1861), Celia (18th October 1861) and Patrick (6th September 1866). The Griffiths survey records the presence of John Stanley in Emlaghyroyin.
I have entertained the idea that Celinia was known by another name. Was it Celia, or Cecilia? Did she use her second name? This is a little bit like looking for a needle in a haystack. Quite by chance I came across a record for the birth of a Celinia in June 1881 in Emlaroy. The father is named as John Brennan from Turksland. This is about 1 ½ miles north of Emlaghroyin. The mother is Ellen Brennan, maiden name Stanley. The birth was reported by Patrick Stanley. I can find no record of a marriage.
Theory:
Ellen and Lizzie are daughters of John Stanley and Bridget Kelly. Ellen was born in 1857, and Lizzie two or three years later.
Another daughter's name (Celia) was the inspiration behind the name of Celinia.
Ellen Stanley and John Brennan were not married when Celenia was born in 1881. In fact, they never married. Ellen Stanley never became Ellen Brennan. The father's name appears on the birth register as a matter of record. (Ellen would have been 24 in 1881)
By the time that Celenia married in 1904, everyone was happy for her to use her mother's surname.
The named father (Patrick) on the marriage record in 1904 is an uncle. It is possible that he is the same Patrick who reported the birth of Selenia in 1881.
Ellen had a second child, John, in 1894. He was referred to as a cousin on the 1911 census to cover the fact that he was born out of wedlock. (Ellen would have been 37 when he was born.)
Michael Connor was correct in referring to Ellen as his grandmother when reporting her death.
Michael was incorrect in referring to Ellen as a farmer's widow. She never married.
Lizzie was his great aunt, not his aunt.
Michael Connor does not seem to have realised (or chose to conceal the fact) the Ellen and Lizzie should have had different surnames if one of them married and the other didn't marry.
I already know that the census has some omissions. For example, Bridget Stanley (died 1909) and Thomas Stanley (died 1908) are both missing from 1901. It seems that Celina was also missed off.
I have written and rewritten this story many times. I have tried to simplify it as much as possible. I have tried to separate facts from speculation. If I have missed something, please let me know. As with many of these articles, I have no definitive link connecting these people to my family.