The relative dearth of information about my grandfather Patrick has forced me to examine leads that I would not normally pursue. Recently, I re-visited some of my earliest records. In November 2007, I received a report from the Roscommon Heritage and Genealogy Company.
The baptismal sponsors for my Grandfather Patrick in March 1883 were Elizabeth McDermott and James Mullooly. Why were these particular people chosen? The obvious place to look would be amongst relatives and neighbours. Given the relative lack of mobility at the time, some of the neighbours could also be relatives. A real difficulty is that both surnames were common in the immediate area at the time. As the photo shows, the McDermott clan is still much in evidence today.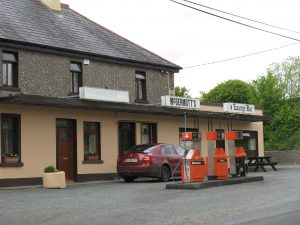 Opposite Ballinheglish Church (Author' photo)
(I hope that people do not sit out the front of the Lounge Bar to have a smoke!)
I started looking for Elizabeth McDermott. There are no realistic matches on the 1901 census. The only one old enough to have been a sponsor 18 years earlier was married. She had a 22 year old son. She lived in Ballyhubert. Her maiden name was Moran. She married Alexander McDermott in 1875 in Strokestown. There appears to be very little likelihood that she is the right person. There is nothing to connect her back to Clooneenbaun, where I definitely have family connections.
I looked for a death between 1883 and 1901. There are two, but both are of young children.
Did she change her name? There is a marriage of Lizzie McDermott (19) of Carraduff to Joseph Rorke in 1885. As with Elizabeth Moran, there is nothing to connect her to my family.
In 1901, James McDermott (37) his wife and their three young children are living in Clooneenbaun, together with John (75) the father of James. It is possible that Elizabeth was the sister of James. If she was his older sister, then she would have been born before civil registration started.
Kate McDermott (56) son James (22) and daughter Ellie are living in Lissagallan, the adjoining townland. I have been unable to determine the name of Kate's husband. Again, it is possible that Elizabeth was related to him. All I can know for certain is that Elizabeth McDermott seems to disappear from the (Irish) records. The most likely explanation is that she emigrated. Perhaps someone can put me right!