John Stanley (b 1857/1861, in Dewsbury) married Ellen Kenny in 1884. According to the 1881 census, Ellen's parents were William, born 1840 in Ireland, and Ann, born 1841 in Dewsbury.
In 1871, their dates of birth are 1844 and 1845 respectively. Ann is now stated to have been born in Ireland. Staying with them was John Larven, who was Ann's father. He was born in Ireland. It is likely that Ann was born there too.
I am not convinced about the surname Larven. A heavy accent made have been responsible for a 'best guess' by the enumerator. I can find no trace of a marriage between William Kenny and a lady called Ann, either in England or Ireland. The relative dearth of records in Ireland is probably the issue. Sadly, this means that the trail goes dead. The exact part of Ireland from which they came remains unknown.
In my digging, I did come across another Kenny family.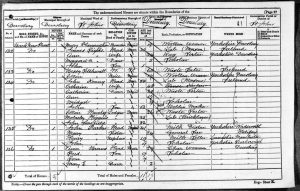 Back New St features yet again. There are nine people living in the one house, of whom three are lodgers. From the age of the youngest child, they must have arrived from Ireland after 1872. It is not immediately obvious what happened to this family after 1881. John Kenny, the head of the household is a Mason's Labourer. This occupation features elsewhere in this investigation. Without more information it is difficult to connect them to others with the Kenny name.