Patrick signed up for the army in Pontefract, Yorkshire. Once he had joined the army they would have made arrangements for him to travel to Regimental Headquarters in Ashton-under-Lyne.
I do not know how Patrick travelled from Yorkshire to Lancashire. The most likely option would have been by rail.
Rail travel meant steam locomotives in 1902.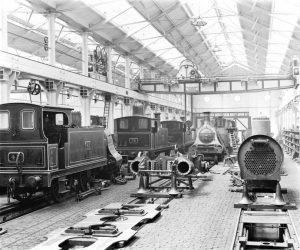 Science Museum Group. Bow Locomotive Works. 1996-7310. Science Museum Group Collection Online. Accessed December 11, 2018. https://collection.sciencemuseum.org.uk/objects/co413341.
The first cross Pennine railway route was opened in 1845. The route incorporated a number of challenging gradients. It featured the three-mile long Woodhead tunnel(s) at the summit. Between 1 in 100 and 1 in 130 is quite common. There was almost no flat section. Heavy goods trains were often pulled by two locomotives. The route closed to passenger traffic in 1970 and to freight in 1981.
The age of steam is often talked about in nostalgic terms. The attractions are clear if the alternative is to ride in a horse drawn carriage on an uneven road. That does not mean that passengers travelled in luxury.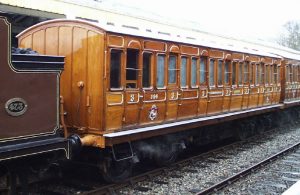 http://www.bluebell-railway.co.uk/bluebell/pics/coach394.html
Patrick would have travelled Third Class in a carriage such as this one. Bench seats, with minimal padding, were provided in separate compartments (no corridor running the length of the carriage). There was no access to toilet facilities. Some Third Class carriages had ten compartments each capable of seating ten people. Third Class was abolished on British Rail in 1956.
More recently ideas have been floated to bring back a form of Third Class on high density, short distance commuter routes. Extra passengers can be squeezed on by removing many of the seats. On London Underground, the stated capacity of a train assumes roughly three people standing to every one seated. At least Patrick would have had a seat.