Patrick's military record shows that he signed up for the Manchester Regiment in Pontefract on 2nd October 1902. He is then shown as being at the regimental headquarters on 4th October. Those unfamiliar with English geography and history may not regard this as strange.
A short geography lesson.
The Headquarters of the Manchester Regiment were located in Ashton-under-Lyne, in the County of Lancashire. Pontefract is in Yorkshire. As can be seen from the map, the two counties are adjacent. The map shows the boundaries that existed in 1851. There have been a number of reorganisations of local government since then. The two towns are, however, still about 45 miles apart. In some countries, such a distance would be regarded as being in the same neighbourhood.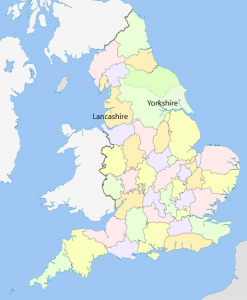 Source: https://en.wikipedia.org/wiki/Historic_counties_of_England#Recognition_of_historic_county_boundaries
What this map does not show is the ridge of hills running down the middle. The Pennines are often referred to as the backbone of England. The hills are small by many standards. The highest point is less than 3000ft (900 m). The countryside is relatively empty. In winter it is bleak but still beautiful. Minor roads are often blocked by snow and ice. Travelling from one side to the other before the age of reliable cars was not a journey to be undertaken lightly. The first cross Pennine railway route was opened in 1845. It featured a three-mile long tunnel.
The Pennines are a physical barrier. They also act as a psychological barrier.
Further information: https://en.wikipedia.org/wiki/Pennines