On the 1880 census for Marshall, Calhoun County, Michigan, Jessie Kelly appears as a ten year old child. She is living with her Aunt Susan (born around 1840, in Ireland), Uncle Jeremiah Cronin (born around 1831 in New York) and their six children. Also in the household is Anna McHugh, the eldest daughter of John McHugh and Catherine (nee Kelly). The final member of the household is a nephew, Theodore Kelly (aged 17).
Michigan census records are particularly helpful in that they record the place of birth of each person, and that of their parents.
Jessie was born in Nebraska. Her parents were both born in Ireland. That makes sense. We already knew that John was born in Ireland. It was always likely that he would marry an Irish girl. But what were they doing in Nebraska, over 600 miles from Calhoun County, Michigan? It is also a long way from Foley, Missouri where the family ended up only a few years later.
Another mystery concerns Theodore Kelly. He was born in New York, as was his Father. His mother was born in Ireland. Either there is a transcription error, or Jessie and Theodore cannot be brother and sister.
According to the narrative that has been passed down to me, John, Catherine, Susan and Mary were cared for by an Uncle when they first arrived in America sometime around 1847. Initially this was in New York. Working back from their dates of birth, their parents would have been born sometime around 1810. The Uncle would, probably, be of a similar age. If he emigrated in the 1830s, then he could have had a son born in New York who was old enough to be Theodore's father. It does suggest that the Uncle who took care of the four orphaned children was from the paternal side (i.e. a Kelly) and not from the maternal side. This is all speculation.
It hasn't proved easy to track down Theodore with any certainty. It is quite possible that he was baptised John, with Theodore being used within the family to distinguish him from all of his many namesakes.
The 1870 census for Omaha, Nebraska contains a record of a J E Kelley, (born 1832, Ireland) along with Mary A Kelley (born 1841, Ireland), Julia Kelley (born 1845, Ireland) and J Esther Kelly (less than 1 year old, born in Nebraska). J E Kelley's occupation is recorded as Justice of the Peace. He is shown as having real estate to the value of over $300,000 (in 2021 terms).
This could be John, his wife Julia and sister Mary. I stress the word 'could'. This is circumstantial evidence at best. Unfortunately, birth records for Nebraska only start in 1869, and then only in selected areas. There is a record of a John Kelly marrying a lady called Julia Scanley in September 1869 in New York. It seems unlikely that the couple would immediately undertake a long and arduous journey to Nebraska (the railway through to California only recently having opened) with Julia being heavily pregnant. It is possible that Jessie was born in early 1870, despite what other records state (either September or November 1869).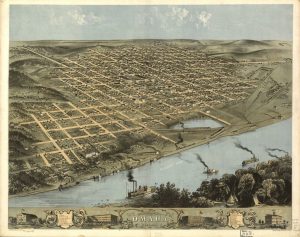 The most likely explanation is that John set off to find somewhere full of opportunity for the family to settle. Perhaps California was a contender. Nebraska only achieved statehood in 1867. A combination of the harsh Nebraska winter and the imminent arrival of a child might have made them stay for longer than anticipated. I need more family folklore to put flesh on the bones of this narrative!