Mary Muldoon, nee Stanley, next appears, together with her husband Patrick, on the 1891 census. As is widely known, the records from the Irish census of 1891 (and all earlier years) were destroyed in a fire. It is just as well that they moved.
Patrick and Mary Muldoon were living at 23 Swallow Road in Dewsbury, Yorkshire in 1891. The ages are right. Both were born in Ireland. Strangely there is no record of John Muldoon. He would have been four. Perhaps he stayed with relatives in Ireland whilst his parents became established in England. He reappears later.
In 1892 they had a son named William. This maintains the tradition of recycling names. (Patrick's father was called William.)
In 1901 three out of four family members can be traced. Mary is shown as a widow and the head of the family. She worked as a Scribbling Machine Feeder in a Woollen Mill. John, 14 and William, 9 are present. Patrick has died. They are living at 11, Back New Street, Dewsbury. This location features later on in the story.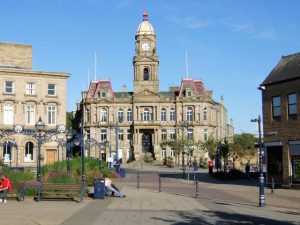 Dewsbury Town Hall
(By David Ward, CC BY-SA 2.0, https://commons.wikimedia.org/w/index.php?curid=4323469 )
The tragedy for Mary continues. The 1911 census shows only one son, William, still alive. By this time four children have died. What happened to the missing Muldoons?