Patrick's enlistment paperwork provides a range of detailed information. He was 5ft 5 1/2 in tall (166cm) and 125lb (57kg). This gives him a BMI of 20 which is considered healthy by today's standards.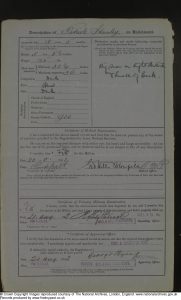 The Army said that he had blue eyes. My father (Patrick's son) disagreed. He said that they were more brown than blue. There are no blue eyes in any of the descendants.
Under distinctive marks, it says 'big scar on right buttock and small of back'. How did that happen? We don't know. In family folklore there is a (totally unsubstantiated) story about poaching. Perhaps Patrick was wounded by a gamekeeper. Perhaps that is why he came to England.
Having signed the initial papers in Dewsbury, two days later Patrick was in Pontefract, about 18 miles away.
The next page says that he spent 44 days doing drill on enlistment before transferring to the Manchester Regiment.
The final page records the name and address of his next of kin. She is listed as Mary Muldoon (Sister), living at Back New St, Dewsbury. Mary's story is told under Mary Stanley and Mary Muldoon.