"Houston, we've had a problem." The words of Jim Lovell, Mission Commander on Apollo 13 in April 1970. A masterful understatement! Similar words are used frequently in documentaries in an effort to introduce tension into the narrative. On an almost trivial level, I too have a problem.
For some years, I have been struggling to decide whether my link to distant cousins in Missouri came from Patrick McHugh (1825-1906) or Catherine Kelly (1833-1909). It has to be one of them, with a small possibility that it could be both.  I was delighted when a stream of new information was discovered by a correspondent who lives in Michigan. (See "The benefits of sharing") Learning that the Kelly family seemed to come from Ennis, County Clare (about 75 miles south west of Roscommon) made me think that the link must be on the McHugh side. It is always dangerous to leap to conclusions with incomplete data. New information now suggests that the McHugh family may have originated in Tyrone. This is about 100 miles north, north west of Roscommon. I was hoping to find a solid cluster of McHugh relatives not far from Roscommon Town. I would accept a location just over the border into Galway, which is about 15 miles away. This all means that things are no clearer than before. I am not saying that more information is a bad thing, far from it. I have to hope that, at some point, the overall picture comes into focus.
A couple of theories come to mind:
Catherine Kelly's sister Susan is the one recorded as being born in County Clare in 1837. Perhaps the family moved there sometime in the 1830s. Other family members might have stayed in the Roscommon area and that is the link to my family.
Members of Malachi McHugh's family (born 1805 in Tyrone, died 1849 in Michigan) might have moved to Roscommon following his birth and they provide the link to my family.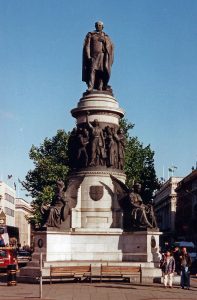 There might be another explanation. What I can be sure about is this: more evidence is required before I can have any certainty.
Footnote: Ennis was also the birthplace of Daniel O'Connell. He played a leading part in securing Catholic emancipation in 1829. Only when the relevant Act of Parliament was passed could he take his seat as a Member of Parliament. O'Connell Street in Dublin is named after him.