In my attempts to tie down loose ends, I came across a curious page in the register of deaths for 1936. I was interested in Ellen Stanley. She appears on the 1901 census in Ballinlough. She is 60 (born 1841) and living with her brother Patrick (45), his wife Mary Ellen (45), and their three children Mary (12), Ellen (10) and Patrick (8).
If any of them are on the 1911 census, then I haven't found them. (Correction: they show as Stanly) I have found a record for the death of a lady called Ellen Stanley on 17th March 1936 at the age of 95. Her occupation (at 95!) is given as 'domestic'.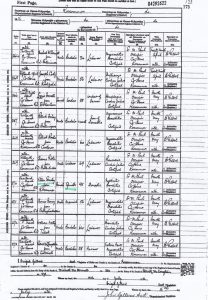 The entire page on the register was reported by "Sr M Paul, Occupier, Co Home Roscommon". I assume that Sr is short for Sister. I am also assuming that this is a reference to the Hospital.
On 29th April, Sister Paul reports two deaths, one on the 13th, age 74 (from bronchitis) and one on the 15th April, ager 56 (from Influenza).
On 4th May, Sister Paul is back with the Registrar. The first entry is for 25th April, age 55 (Heart Failure). The next seven entries are deaths that took place in March. Why weren't these reported earlier?
13th March (bronchitis), age 1 month
16th (bronchitis), age 60
16th (pneumonia), age 69
17th (bronchitis), age 95
18th (bronchitis), age 56
18th (bronchitis), age 64
20th (enteric fever), age 28
That is seven deaths in eight days. I am not medically trained, but this looks like a problem threatening to get out of control. It all took place in the time before antibiotics. Perhaps the staff were so busy in March that no one had time to report the deaths. Possibly they chose to isolate themselves from the general population in a self-imposed quarantine. It is also possible that Sister Paul was unwell for part of the time.