I have looked high and low for members of the Stanley family. In the 1851 UK census I came across the following family:
Jane Stanley, born 1811 in Roscommon. She is a lodging house keeper in Newhall Street, Birmingham, England. Two children are with her. Both were also born in Roscommon. John, born 1832, is a Stamper. Mary, born 1842, does Blacker In work. There is no evidence of a father. It sounds as if they arrived as a result of the famine. Newhall Street is close to the City Centre. It is part of the Jewellery Quarter. Both of the children's trades are associated with the manufacture of products that were integral to the success of the Jewellery Quarter.
By 1861, Jane has moved to Church St. This runs parallel to Newhall St. She is still running a boarding house. Mary is no longer around. (There are three of records of a marriage in 1860.) John's year of birth has changed: it is now 1840. (It is possible that the restrictions imposed by the 1833 Factories Act led to his age being exaggerated in 1851.) Another daughter, Helen, born 1838, has appeared.
The occupations of the lodgers provide an insight into the local trades. There is a Steel Pen maker, a Pearl Worker and a Tin Plate Worker called Patrick Kenney. Another Kenney makes an appearance in the story! Coincidence? Probably, but I cannot be sure. There is nothing to connect this Stanley family with mine apart from the name and the location.
If you visit Birmingham, make sure that you take in the Jewellery Quarter. It is within walking distance of the city centre. At most times of the day it is quicker to walk than to drive. The photo shows the historic St Pauls Church in the heart of the Jewellery Quarter.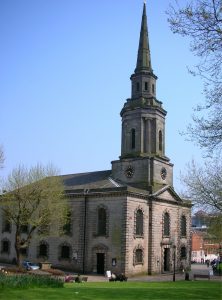 Matthew Boulton and James Watt both used to worship there. Church St, which becomes Ludgate Hill, connects St Pauls to St Phillips. The two churches are about 500 yards apart. In 1905 St Phillips became Birmingham Cathedral.
https://en.wikipedia.org/wiki/St_Paul%27s_Church,_Birmingham#/media/File:St_Paul_Birmingham.jpg