On the post "Island Lower and Upper", (https://www.roscommonstanley.me.uk/geography/island-lower-and-upper/ ) I referred to American records as providing answers to the question about what happened to the rest of the Stanley/Kenney line. (Bridget, Thomas, Mary and John)
Bridget Stanley married William Simpson on 29th June 1887 in Pittsfield, Massachusetts. He was born in Darnford, New York in 1861. She died on 16th September 1909, in Pittsfield.
They had four children:
William John Simpson, born 24th May 1888
Thomas Joseph Simpson, born 6th March 1890
Edward Simpson, born 4th May 1891 in Pittsfield, died 11th December 1912. The death was reported by Thomas Stanley (see below).
Anna M Simpson, born 18th December 1892
Thomas Stanley married Margaret Kenney on 23rd October 1901 in Massachusetts. She was born 10th February 1872 in Adams, Berkshire, Mass. The Kenney name appears elsewhere on this website. Is this a coincidence? Was a member of the Kenney family the first to settle in the Pittsfield area? The pattern that one person goes and others follow is quite common. This is the case with the Dewsbury side.
Mary Stanley, born 1869, died 1900 in America.
John Stanley, born June 1874, married M Flynnse in 1904 in America.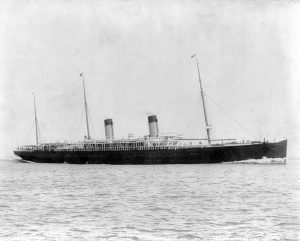 I think that John and Mary travelled together in 1899 on the RMS Majestic, from the White Star Line. https://en.wikipedia.org/wiki/RMS_Majestic_(1889)
There is another link to Pittsfield that will be covered subsequently.