This is the fourth blog exploring what happened to the children of the marriage between John Stanley and Winifred Kenney after they arrived in America. This time it is the turn of Bridget.
Bridget's exact date of birth is not known. Working back from the age recorded on her death certificate would indicate 1865. A brother called William was born on 10th April 1865. Thomas was born in August 1867. It is possible that Bridget's birth fell into the gap between the two. The fact that there is no such record points to the likelihood of an earlier date, possibly 1862-4.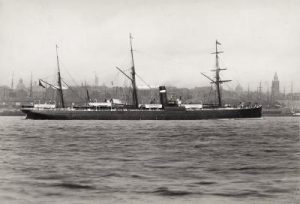 All of the young people seem to have made the trip to America on their own. This makes it difficult to know exactly when each of them travelled. It seems probable that Bridget travelled on the SS Nestorian, arriving in Boston on 26th May 1882. The Nestorian was a three masted schooner with a capacity of 800 passengers. It was purpose built for the immigrant trade, and displaced 3000 tons. This makes it about two thirds of the size of a Staten Island Ferry.
On 29th June 1887, Bridget married William Simpson. The place was Pittsfield, Massachusetts. According to the record, her parents were John Stanley and Mary Bridgemen. It is not clear how this second name has appeared. On her death in 1909, her parents are listed (correctly) as John Stanley and Winifred Kenney. William predeceased her, dying in 1908.

They had seven children. They were:
William, born in Massachusetts on 24th May 1888
Joseph (or Thomas Joseph), born in Massachusetts on 6th March 1890
Edward, born in Massachusetts on 4th May 1891, died 11th December 1912
Anna, born in Massachusetts on18th December 1892
Lottie, born in Massachusetts in 1895
George, born in New York in 1896
Elizabeth, born in New York in 1899
In 1910, William (born 1888) is the head of the household, looking after his six siblings. In 1920, Elizabeth is staying with John Stanley and his wife Margaret. (See Massachusetts John)
It is now time to look at the next generation. On 25th June 1917, William Simpson married Bridget Agnes Rattigan. She was the 23 year old daughter of Patrick Rattigan and Elizabeth Kenney. This couple first appeared in Massachusetts Thomas. William's mother and that of Bridget Rattigan were sisters by marriage.
Joseph Simpson married Alice Marguerite Van Buren on 22nd February 1920.
Elizabeth Simpson married Philip David Barry on 26th May 1926.
And finally to Lottie. Is that her correct name? Or should it be Charlotte? She married Osee Thorington. There were at least three children. Elizabeth (born 1916), Katherine (born 1919) and Harold (born 1924, died 2001) are the ones that I am sure about. In my records I have a message that must have been posted on a genealogy website (such as Ancestry) by Harold Osee Thorington. It was dated 1998. This was well before I started my research. He was seeking information about his grandmother Bridget Stanley. Sadly, it was far too late by the time that I found it. My hope is that another of the descendants of this particular branch of the Stanley family has taken up Harold's search. If so, there is the possibility of establishing whether or not there is a connection to my line.