This is the third blog exploring what happened to the four children of the marriage of John Stanley to Winifred Kenney. See Massachusetts Mary and Massachusetts Thomas for the previous two articles.
John was born in Islands, Roscommon on American Independence Day 1874. The best fit for his voyage to America is on the Cephalonia which arrived in Boston on 30th September 1889. He appears to have headed towards the location of his siblings: Pittsfield, Massachusetts. Certainly that was the location for his marriage on 24th April 1904.  His wife was Margaret Elizabeth Flynse who was born in Nebraska. She was a long way from home. Nebraska is over 1500 miles to the west. But then, so was John. Ireland is twice as far to the east.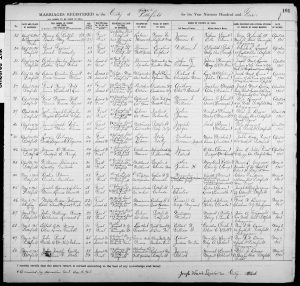 This marriage was blessed with children. The 1920 census records the presence of five children. They are Alice (13), John (11), Michael (9), Thomas (8) and Edward (3). Also present was a 20 year old niece called Elizabeth Simpson. She will reappear in a subsequent blog.
The same family are still in Pittsfield in 1930. By 1940 John seems to have died, as Margaret is the Head of the Household. Alice is still with her, as is Edward.
As stated previously, I am not sure if the John Stanley who married Winifred Kenney is connected to me or not. I note that the names of the three eldest boys of the John Stanley & Margaret Flynse marriage are the same as those of the John Stanley & Bridget Ormsby marriage from the late 1860s/early 1870s. This may well be pure coincidence.
If there is a connection, I would expect a living relative of the Stanley/Flynse marriage and I to share no more than 35 centimorgans of DNA – possibly half of this. Time will (may) tell!