Kate appeared on the 1891 census. Born in 1851, she was already married to Uriah and had two daughters, aged 6 and 2. The Senior surname is quite common in West Yorkshire. The name Uriah is far less common. They are easy to find on the 1881 census.
Kate and Uriah are both shown as being 27 (hence born in 1854) and are living at High St, Dewsbury. (Uriah might be older. There is a tick right across his age making it difficult to read.) There are no children. The only other occupant of the dwelling is Maria Kenny, born 1859, a lodger from Ireland. There are no details concerning which part of Ireland. It is reasonable to assume that there was some prior knowledge involved.
Kate and Uriah were married in 1879. She would have been somewhere between 25 and 28.
There is no trace of her on the 1871 census for England. The assumption has to be made that she was still in Roscommon at that time. It is not known what caused her to leave Ireland, or to choose Dewsbury as a destination.
In 1901, Kate has gone back to being Catherine. The dates of birth for both Uriah and her have changed again. This time the dates are 1846 and 1857 respectively. The ages of their daughters match perfectly to the 1891 data. They are still living at 13 Back New St. There are a couple of locally born lodgers in the house. There is also a visitor called Mary Canaan, a 67 year-old widow from Ireland. What is the connection? Is she related to Catherine's mother, her sister possibly?
That is seven people living in a back-to-back house. They had just two rooms. The kitchen is included as one of these rooms.
I struggled to find the family on the 1911 census. The image may show why.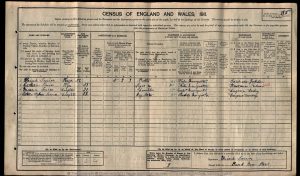 Uriah's name has been transcribed as Wriah, born 1855. Catherine is shown as Cather, born 1856 in Roadstown, Thailand (as opposed to Roscommon, Ireland). The eldest daughter Maria is shown as Grazia. The youngest daughter Catherine Agnes is Cathaoir Arthur. It looks as if the transcriber was having a really bad day.
The 1911 census also tells us that there were three other children born to the marriage. Senior is a common name in the area. It is difficult to narrow down the options.