In my endeavours to make sense of the family tree, I have followed leads in all directions. As the golfer Gary Player observed, "The harder you work, the luckier you get." I am not sure if it was inspiration, perspiration or blind luck, but I came across the following 1901 census entry.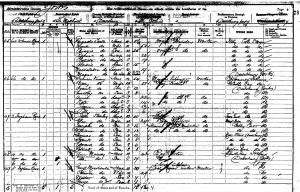 The head of the household, John Stanley, (born 1861 in Dewsbury) has provided an unusual level of detail on places of birth. Furthermore, the enumerator has faithfully recorded the information. Thomas, Frank and Edward were all born in New St, Dewsbury between 1889 and 1895. The youngest was born at Ingham Road, their residence at the time of the census (No 2). Ingham Road still exists. The houses are numbered from the southern end.
This means that we have locally born Stanleys living in very close proximity to the Irish born relatives. What, if any, is the connection?
The entry immediately above, on the same page, is for 66 Wilman Road. The head of the household is Frances Kenny, who was born in Roscommon in 1859. Checking the 1881 and 1891 census returns shows that his wife Biddy (or Bridget) was also born in Roscommon. From the ages of the children, we know that they came to Dewsbury in 1874 at the latest. A lady called Maria Kenny appears in the Kate Senior (nee Stanley) story. Coincidence? It is almost impossible to know with any degree of certainty. My curiosity has been stimulated.
In 1911, John and the family are living at 52 Wilmans Yard. The next entries in the census returns are for Bennetts Yard and Junction Road. I can find no trace of any of these three locations on the modern map. The aerial view shows that Ingham Road used to go further south than it does today. Perhaps this is where these dwellings were located.