In "Servant in Tonlegee", I made reference to an article about Beechwood House. Almost in passing, there is a reference to an Ormsby estate. This required further investigation. There is a wealth of information to be found at http://goldenlangan.com/ormsby.html The earliest family record is of Richard de Ormesby who was born in 1020. A mere thousand years of family history! They appear in Burke's "A Genealogical and Heraldic history of the Landed Gentry of Ireland".
In the mid 1600s, Sir Edward Ormsby had an estate of 9,260 acres in Connacht. He was succeeded by his brother Gilbert. Direct descendants were still living at Tobervaddy in the mid 18th century. Members of another branch of the family were living at Grange, in the Parish of Kilbride. And this fact is significant: there were a lot of them. Connecting them all is not easy. I am not going to try. A few examples will tell the gist of the story for my purposes.
The Reverend William Ormsby appears on the Griffiths Survey as a significant landowner in Roscommon. He owned over 500 acres. Most of his holdings were in St. John civil parish (between Roscommon and Athlone.) At the time, he was Rector of Arklow, County Wicklow (about 140 miles away).
In 1815, William Gore married Mary Jane Ormsby. She was the daughter and heiress of Owen Ormsby. He was allowed, by royal license, to add her name to his, becoming Ormsby-Gore. He was an MP (Member of Parliament) and the son of an MP. Their eldest son carried on the family tradition in Parliament before becoming the first Lord Harlech. And the tradition continued through the generations. The next three generations all entered Parliament.
William David Ormsby-Gore (1918-1985) was an MP from 1950-1961. He served as British Ambassador to the United States of America from 1961 to 1965. He was distantly related to the Kennedy family. (The connections to Ireland of the Kennedy family are well known. Links have been established to County Wexford, Limerick, Clare, Cork, and Fermanagh.) On the death of his father, he became the 5th Baron Harlech. He was a pallbearer at the funeral of Robert Kennedy. His own funeral was attended by Senator Edward Kennedy and Jacqueline Onassis.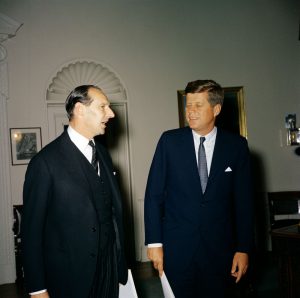 Is there a connection with the servant girl Bridget Ormsby? It is unlikely. As already stated, the (wealthy) Ormsby families were typically (for the times) large ones. In this respect, they were no different from their poorer namesakes. They could afford a decent diet and good houses, so their children were more likely to survive. If land was divided between different children, then the younger ones could have inherited. If the estates were kept intact then the second and subsequent children would have had very little. It was said of younger sons, "one for the army, one for the church and one for the sea".  The fifth son of a fifth son could easily end up with nothing. There is also the fact that many of the 'landed gentry', including the Reverend William Ormsby, were Protestants.
This has been an interesting diversion. Unless new evidence emerges, I will not spend much more time on the landed gentry.