On May 5th 1865, a labourer from Rockfield called John Stanley married a spinster called Bridget Ormsby in Kilbride RC Church. This church is the one at Fourmile House, about 5 miles north west of Roscommon town (picture below). It is St Bridget's. This may well account for the number of girls with that name.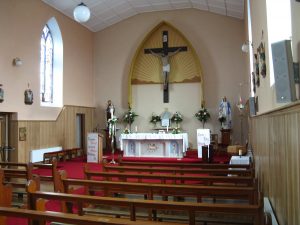 John was reported as being 40 years old. He was a widower, and the son of another John Stanley. This one must have been born around 1800. They had four children that we know about:
John, born at Cams, June 29th 1866
Mary, born at Cloverhill, July 2nd 1868. She was baptised August 16th. The baptismal sponsors were Denis McEntre and Catherine Stanley. The civil record gives her date of birth as August 3rd.
Michael, born in Rockfield, September 7th 1870. He was baptised on September 18th. (Sponsors James and Frances Gannon) The civil record says that he was born in Cams. Michel died in Cloverhill on August 30th 1879 aged nine.
Thomas, born July 2nd 1873 in Rockfield. He was baptised July 13th. (Sponsors James Gannon and Mary Hannely)
Immediate observations
The given location is dependent on whether the civil or church records are being cited. Rockfield is the same place as Cams. As already established (Narrowing the search) Cams was largely empty. There were only a handful of dwellings for labourers.
Civil registration only started in Ireland in 1864. Compliance with the law took some time to become established. 42 days is allowed for registration of a birth to take place. The easiest way to avoid a penalty for late registration is to alter the apparent date of birth. This could account for the month difference in dates for Mary's birth.
It would be good if all births could be traced through both civil and church records. Sadly this is not the case. There is no civil record for Thomas and no church record for John.
The names of baptismal sponsors give another set of leads to follow. Did they live nearby? Were they related?
We have John Stanley and his wife Bridget living in Cams with a young family. My grandfather was born to John Stanley and his wife Bridget in Cams. As the narrator on TV documentary programmes is apt to say, in an attempt to build tension, "but there is a problem". One mother has a maiden name of Orsmby, and the other one is Scott.
The simple explanation would be that the Bridget Ormsby died and that John married for the third time to Bridget Scott. Simple, but things are seldom that simple, as will emerge as the story unfolds.