I am continuing to explore the descendants of John Stanley and Winifred Kenney. (See Massachusetts Mary) This time it is the turn of Thomas. Civil registration started in Ireland in 1865. This doesn't mean that all births after that time were recorded, but the majority of them were duly registered. Thomas was born on 21st August 1867. His age is recorded on various documents in America as being up to eight years different to this.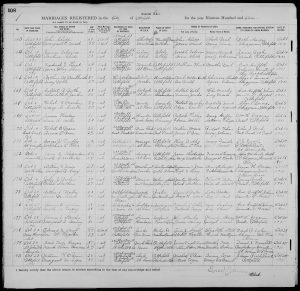 On 23rd October 1901, Thomas J Stanley (age 31 apparently) married Margaret Kenney in Pittsfield Massachusetts. Margaret was born in Hinsdale, which is about 4 miles east of Pittsfield. Her parents were James Kenney and Bridget Drake. She was (approximately) 30 years of age. There do not appear to have been any children. As with Mary, the absence of children means that there are no living relatives to find. Another dead end when looking forward.
In 1910, Thomas and Margaret have James Kenney (Margaret's father) staying with them. He was 66. He must have been born 1844. His place of birth was Ireland.
In 1920, Thomas and Margaret have Ellen Kenney as their guest. She is Margaret's younger sister. By 1930 there are just the two of them, and there is a date of immigration: 1894.
The most likely date of death for Thomas was 1934.
The obvious question here concerns the relationship of Thomas's mother Winifred Kenney (born 1840) and Margaret's father James Kenney (born 1846). It is perfectly possible that there was no relationship between them at all. I found 83 records of people called James Kenney who were immigrants to America in the second half of the 19th century.
The Kenney & Drake marriage took place Hinsdale on 19th June 1864. From this record the names of both sets of parents become known. James was the son of John Kenney and Margaret Daley. Bridget was the daughter of Edward Drake and Mary Coleman. The amount of detail on some of the American records is impressive, and a boon to genealogists researching Irish antecedents. The place of birth for bride and groom is the same. Unfortunately, it is difficult to read. My best guess is that it says (or is supposed to say) County Tipperary.
The obituary for James, in February 1913, confirms my supposition. This source indicates that there were seven sons and three daughters. The sons were as follows: Patrick, Edward, John, James, William, Laurence and Joseph. Margaret married Thomas Stanley. Nellie was unmarried at the time of James' death. Elizabeth Kenney married Patrick Rattigan. This couple will reappear elsewhere.
Conclusions: very few! What little evidence that exists points to Thomas Stanley's mother Winifred Kenney as having been born in Roscommon in the early 1840s. If James Kenney was born in County Tipperary then they are likely to be distant relatives at best. As I am not sure if Thomas Stanley is connected to me, I have gone as far as I am willing to go with this line of enquiry.